With all of the attention devoted last week to another case where attorney Robert Silverstein has scored a "victory" with a judgment against a Hollywood project, I thought it was time to focus on what the community is losing by these interminable lawsuits.
There are a lot of things that are lost – including jobs, new shopping areas for the community, projects that would improve neighborhoods and address serious problems. Each new development, with modern lighting and in many cases security, helps to clean up the area. Each project draws people who patronize and make neighborhoods safer.
Those who condemn new developments should recall how bad things were in Hollywood 20 years ago. It has only been through new development that we have been able to turn things around. Developers have invested millions of dollars of their own money in improving our community. This is money that the City certainly did not have to invest, and which our own residents/businesses were not prepared to invest to clean up Hollywood.
Some may have forgotten that the Sunset-Gordon project was originally planned to be L.A.'s first workforce housing development for middle-income residents. Even though Mr. Silverstein lost that lawsuit, the two years of delays because of the lawsuit forced the original developer out of the picture and the workforce housing went down the drain. The delays resulted in the deterioration of the historic building. Had there been no lawsuit in the first place, the façade might have been preserved as originally intended.
Hollywood's half-built Target is another case in point. Had it not been stopped, it would have opened by now, creating 200 permanent jobs for our community. In addition, it would have provided nearby shopping for many of our local residents. Hollywood has not had a full-service department store since Sears closed in 2008, only a short distance away. This is especially a loss for low-income residents without transportation, many of whom would be within walking distance of the new Target.
In the case of the Millennium Hollywood project, opponents are so preoccupied with the height issue that they forget about the down-on-the-ground benefits that will accrue to Hollywood. Most of two blocks in central Hollywood will be activated by this project. Currently, they are parking lots. In the evening, the area is dark and uninviting and not an area where people feel safe walking. The project would activate the neighborhood and bring life to the area. The original architect of the Capitol Records building has stated that it was never intended to be an isolated structure surrounded by parking lots. Finally, after more than 50 years, it would be complemented by uses that will allow people to enjoy this world-famous building. The developers of this project have a reputation for doing very high-quality developments. Most communities would be thrilled to secure developers of this caliber, knowing the type of projects they build.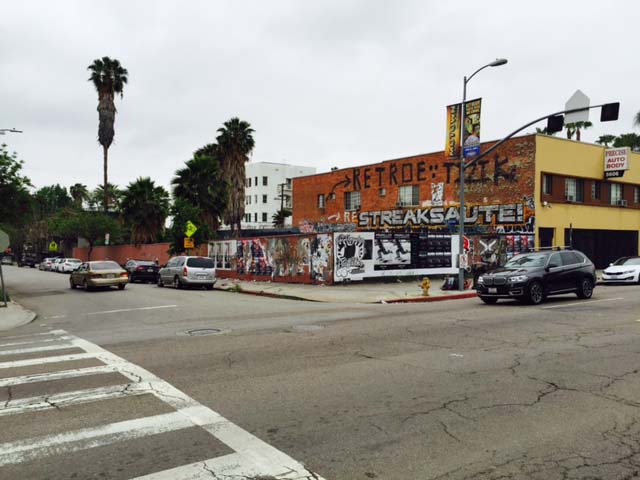 Sometimes, even small projects become the victims of these lawsuits … or the threat of lawsuits. A case in point is the proposal for 80 Cool Rooms, a European-style hotel proposed only one block from a subway station at the corner of Hollywood Blvd. and St. Andrews Place. This proposed project would have taken what is currently a small corner lot covered with graffiti, trash and weeds and transformed it into something of which the neighborhood could be proud and also utilize, with its cafe. In this particular case, there was overwhelming support from area residents. However, one person testified that he would sue if the City approved the project, primarily because the City would be granting an exception to the City parking requirements. Never mind that the primary clientele for the hotel would be foreign visitors, many of whom would utilize the subway. There are 3-million international visitors annually who come to Hollywood, according to the convention bureau. This group uses mass transit at home and they use it now when they visit L.A. Chances are very good that this hotel concept would have worked and the parking would have been adequate. If he could, the developer would have added parking, but because of the narrowness of the lot, it was impossible to add parking in a cost-effective way.
Small developers do not have deep pockets and cannot afford to hang on indefinitely. In this particular case, the architect who was proposing the hotel dropped his plans and sold the property. This is what he said in a letter to me:
"It is unfortunate, but this proved to us that at least in Hollywood, the small high density infill/transit-oriented development has no real chance and a small group of individuals with threat of a lawsuit can derail an otherwise lovely and much-needed addition to the urban fabric of the City! My wife and I always thought that our project would be welcomed by the community, and it was, but never imagined that an overwhelming majority can be taken hostage by a few individuals. … We just don't have the financial resources to deal with lawsuits and frankly cannot live with the stress. Hence our decision to sell."
Which brings me to the point I would like to make: when we are so rigid in our thinking that we cannot think out of the box, then opportunities are lost. Can opponents truly say that Hollywood is better off because workforce housing was never built at the Sunset-Gordon project, or because the Target is sitting there half-built, or because Capitol Records is surrounded by acres of parking lots or because 80 Cool Rooms will never be built?
Of course, we can all agree that a better job needs to be done addressing traffic issues in Hollywood. And one can understand the need to strike a balance between height and preserving views. However, is it wise to send a message that the community is opposed to all development? We have seen how quickly real estate cycles turn. While there is a lot of interest in Hollywood today, it may not necessarily be the case tomorrow. If the development community opts to go elsewhere, we will all be the worse off. The revitalization of Hollywood remains a work in progress. We cannot complete it without investment in new projects.
No one wants to see Hollywood slip back into what it was like in the 80's. Perhaps, as a community we need to try and find common ground?
_____________________________
Leron Gubler has been serving as the President and CEO of the Hollywood Chamber of Commerce for the past 23 years. His tenure since 1992 continues to oversee the great comeback story of Hollywood.